Respiratory Equipment Suppliers to Prisons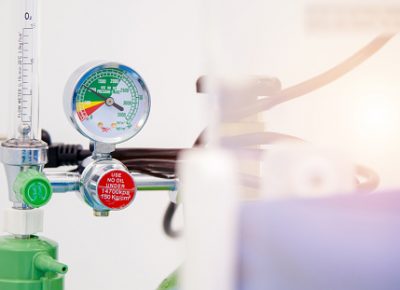 At Aeris Consulting & Management, LLC, we are trusted nationwide respiratory equipment suppliers to prisons. We provide respiratory equipment sales and rentals, to assist correctional facilities in both reducing expenses and providing quality care for inmates.
Prisons and correctional institutions require respiratory equipment that is reliable and compliant with state and federal regulations. Especially as they age, inmates will frequently have respiratory difficulties such as asthma, pneumonia, COPD, allergic reactions among other problems. Properly functioning equipment is often needed at a moment's notice to provide for respiratory care.
At Aeris, we offer same day regional delivery of respiratory supplies and equipment, along with in-house consignment programs across the U.S. We provide a full selection of vital equipment to your facility as soon as it is needed. We also ensure that the equipment on your site is biomedically inspected each year.
Our services help correctional facilities save on costs. As you may or may not be aware, 95% of sleep apnea cases can be successfully treated within a correctional facility. We offer in-house testing for reduced liability and risks. With Aeris, our solutions in equipment and services can reduce your facility's budget by thousands, including helping you avoid inmate transportation costs.
As respiratory equipment suppliers to prisons, we make equipment available for in-house testing, allowing for a faster turnaround time from diagnosis to treatment. We provide the most effective CPAP, Auto-CPAP, and BiPAP devices, masks, tubing, and supplies to your correctional facility, and we also can provide licensed respiratory therapists and sleep specialists to your correctional facility. Enabling treatment without the costs of transportation to a medical facility offers great cost reductions.
Prison Respiratory Equipment Suppliers – Types of Equipment
Our respiratory equipment sales and rentals include Bipap machines, Cpap masks, Airvos, nebulizers, oxygen concentrators, ventilators and more. If needed, we can also arrange for a licensed respiratory therapist to assist in setting up your facility's respiratory equipment for proper usage.
In addition to our services as respiratory equipment suppliers to prisons, our additional consulting services include:
Inspection and maintenance of respiratory equipment that is owned by your facility
Making adjustments when possible to your existing equipment due to changing regulations
Inspection and repair of your biomedical equipment
Aeris Consulting also specializes in cardiac care and wound therapy for prisons, including Holter monitoring and sleep apnea therapy. Our equipment sales and consulting services help your facility provide effective care while minimizing your costs.
Aeris Consulting & Management, LLC is led by Edwin C. Frost, RRT. Mr. Frost has been a Registered Respiratory Therapist since 1992. In addition to managing successful long term and acute care respiratory care programs, Mr. Frost served on the faculty at the University of Medicine and Dentistry of New Jersey and Independence University in California, served as the National Director of Operations for 23 sleep related breathing disorder clinics across the country and served as the Mid-West Director of Sales and Marketing for the 3rd largest independent education company in the United States.
Wherever your facility is located in the U.S., click here to contact Aeris today and find out more about our respiratory supply and delivery services for correctional facilities. We'll provide the equipment to keep your patients breathing safely.
Aeris Now Offers PPE Supplies in Bulk
In an effort to keep our clients safe during these trying times, Aeris is offering PPE supplies in bulk to facilities we work with. Aeris is dedicated to providing large quantities of personal protective equipment to medical offices, skilled nursing facilities and surgical centers throughout the United States.
Our team sources top quality PPE products from around the world and warehouses them for direct distribution to medical facilities. Our parent company has contracts with over 100 facilities nationwide to provide respiratory supplies and PPE on a regular basis.
Take no chances and click here to contact the Aeris staff today for PPE supplies. We hope to help you move forward safely.