Wound Therapy for Prisons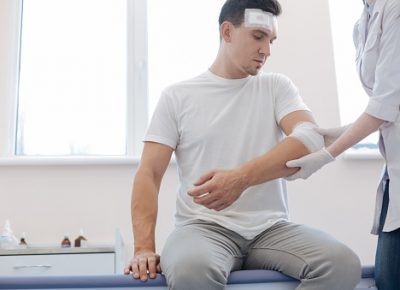 Wound therapy for prisons and correctional facilities is one of the services we provide at Aeris Consulting. Our team provides staffing and equipment to prisons throughout the country, and we assist them in reducing risks to inmates and employees, and saving on costs. With Aeris on your team, you'll be able to cut costs and provide needed health care, while staying within your financial constraints.
The cost of transporting an inmate to a hospital or an emergency room, and the cost of hospitalization, is a strain on prison budgets that are limited to begin with. In addition, being able to properly diagnose and treat an inmate's wounds quickly can save them from more costly therapies and prevent more serious infections. Wound therapy within a facility also reduces risks to employees and liabilities to municipalities.
At Aeris, we're dedicated to the highest level of patient care, and performing needed care within a location to reduce expenses whenever possible. We work with each individual facility to provide quality, cost-effective solutions. We recognize that your prison has specific needs, and we can adapt our services accordingly. Our goal is provide quality care in your facility while managing your expenses.
Our wound therapy for prisons and correctional facilities includes:
Staff education that is facility-based
Equipment sales and rental
Quality trained healthcare practitioners
Flexibility to work anywhere in the U.S.
Same day delivery of needed medical equipment
In-house consignment programs
We offer a wide range of educational programs, RT staffing and technology to clients throughout the country. As specialists in the provision and management of all components used in the practice of respiratory care, we provide your facility with an "unbranded" respiratory care team designed to meet your facilities goals.
In addition to wound therapy, Aeris Consulting provides additional medical consulting services for prisons, including sleep apnea testing and cardiac care. If you'd like to learn more about wound therapy for prisons and specific services that Aeris can provide your facility, contact us using this form. An Aeris representative will get back to you shortly to tell you how we can reduce expenses and improve your care.